A 2020 guide to Nusa Islands: Nusa Penida, Nusa Lembongan, Nusa Ceningan – First of we're gonna explain how to get to the Nusa Islands from Bali, then we'll explain the waves in Nusa Islands.
So, why should you go to Nusa Islands? Bali the famed Island of the Gods can be crowded and while you love it, you may hate it sometimes. And the answer is Nusa Islands. Life on the Nusa Islands all about enjoying nature, surfing, snorkeling, cliff jumping, hiking and relaxing in a chill island atmosphere.
The word Nusa means Island. So it's a litle bit redundant to say Nusa Islands which means Pulau Pulau or Island Island. But we will use this Nusa Islands term because the name it is widely known and Nusa is used for the three islands.
So Basically Nusa has 3 islands that are only a quick 30 minutes boat ride away. Those are Nusa Lembongan, Nusa Ceningan, and Nusa Penida.
The only problem with Nusa Islands is that there are no immigration offices to take care of your visa extension. You will have to get back to Denpasar to extend your visa. So make sure you count your stay properly so you will enjoy the Nusa Islands more freely.
Is The Nusa Islands Worth Visiting?
Awesome Thing About Nusa Penida
Penida means "priests" in Balinese. Balinese or local people there called the island as the black magic island. It was once believed to be inhabited by dark spirits banished to the islands by the priests. And the "penida" or priests came to the island and cleansed all the dark spirits there. Thus the name Nusa Penida to honor the priests.
Nusa Penida is mostly known for the Kelingking Beach, Angel's Billabong and Broken Beach. You can see those awesome pictures taken by Instagrammers. It is also known for some of the best snorkeling and scuba diving around Bali. But you can also visit the temples where the spirit is worshipped.
Amazing Nusa Ceningan
Nusa Ceningan is a small tropical island, it is the smallest island of the 3. Nusa Ceningan nestled between Nusa Lembongan and Nusa Penida. While it's not that popular like Lembongan or Penida, Nusa Ceningan has its charm and a much better option than two for you who likes quieter, more beautiful vibes.
Nusa Ceningan is accessible from Nusa Lembongan, it's connected by the popular yellow bridge. It's not that big, so you can opt to rent bike or discover the beautiful experience on foot.
Astounding Nusa Lembongan
Nusa Lembongan has slower pace than Denpasar. Many areas in Nusa Lembongan are good for diving and snoerkling because it provides abundant marine life and healthy coral
Nusa Lembongan has several white sand beaches which are somehow never crowded like in South Bali. Lembongan beaches are Dream Beach, Mushroom Bay, Coconuts Beach, and Jungutbatu Beach. These beaches have several seaweed farming industry so you can learn more about this.
How To Get To The Nusa Islands?
To get to the Nusa Islands from Bali you need to go to either Sanur or Padang Bai.
You can choose to use speedboat from Sanur, it is closer to main city in Denpasar, faster to arrive, cheaper, but you are limited to what you can bring.
Or you can go to Padang Bai, it will take around 1-2 hours drive from South Bali to get to Padang Bai harbor. But because you will be using public ferry, you can transport your scooter to the Nusa Islands.
We will break down on how to get to the nusa islands by these two methods.
By Speedboat from Sanur
By Public Ferry from Padang Bai
Get to Nusa Islands by Speedboat from Sanur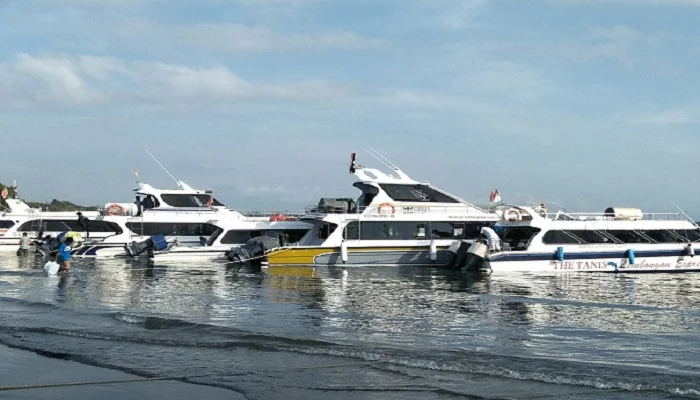 This is the most popular and easiest option for getting to the Nusa Islands from Bali. Just go to Sanur Beach and you will see lots of speedboat parking on the seashore ready to get to the Nusa Islands.
You don't have to reserve your tickets. There are many companies there selling speedboat tickets at almost the same price. The speedboat price to the Nusa Islands can cost you around 300k – 400k for a round trip. Just make sure you get there around 8 am to 4 PM.
Get to Nusa Islands by Public Ferry from Padang Bai
If you have time to kill, on a tight budget, or want to transport your scooter, you can go to the Nusa Islands by public ferry that leaves from Padang Bai. The ticket is only Rp 30,000 / person. The ferry does not have a set schedule. It just leaves whenever there are passengers waiting, usually from 11am–1pm. The ferry can also take a few hours and only goes to Nusa Penida. This method is only used when a traveler is on a tight budget or has time to kill.
What to Bring for Nusa's Adventure!
Sunscreen (at least SPF50!), and Sunglasses. If you are biking, wear a thin layer with sleeves that can be removed.
A thin cotton scarf/sarong wrap. I love them because they are versatile! You can wear it around your neck and shoulders to protect yourself from the sun, but can also double up as something to sit on while you are at the beach.
Sufficient cash. There are hardly any ATM or places that take credit card here, so you need enough to last the entire time you're on the island.
Bathing suit. Once you see how clear the water is in this part of the world, you'd want to jump in.
Surfboard. The water is warm, the waves are pumping, and the crowds are minimal.
Suitable footwear. You need good walking shoes for the treks, but you'd probably want to wear flip-flops while at the beach. So bring both if you can!
How to get around Nusa's Islands!
Renting motorbikes will cost you around Rp75,000-Rp100,000 per day. You can rent it anywhere in Nusa Islands. Just make sure to have a full gas of tank. A friendly note, rent motorbike only if you are an experienced rider. The road in Nusa Island is bumpy and wore down.
Go to Nusa Ceningan from Nusa Lembongan as those two are connected with yellow bridge. So you can have a visit for those two in a couple of days.
Surfing in Nusa's Island
By the time we got to the Nusa Islands and wrote this article, the Nusa Islands are still uncrowded and have some of the best waves in Bali. Unfortunately, Nusa Penida doesn't offer much in surfing. But Nusa Lembongan and Nusa Ceningan are must-visit list for the surfers.
Surfing in Nusa Lembongan
There are 3 main surf spots in Nusa Lembongan. Playground, Lacerations, & Shipwrecks. The water is still crystal clear. Just before the set waves roll in, the ocean is calm and peaceful. Even tho' often the waves are not perfect but on Nusa Lembongan, you will always find a wave to ride, that's almost for certain. But for certain, waves in Nusa Islands are not for beginners. You rather surf on these surf spots for beginners in Bali.
Playground surf spot, just the name implies. It's a playground for the surfers. Yet, because of the name, it is the most crowded spot in Nusa Lembongan. To reach Playgrounds you make your way through the jungle to Coconut Beach and paddle out.
Laceration is an absolutely perfect right-hand barrel. It tends to have more size than Playground's. But to get to Laceration you need to paddle from Playground. This could rip ou out on the way back. So save your stamina! Lacerations is the most challenging of all the waves on Nusa Lembongan, but that doesn't usually deter the crowds either.
Shipwrecks, only available at mid tide and needs some water! It is non-existent at low tide and starts breaking on the push to mid-tide. It takes time but will form a great right hander wave. Just be careful with the shallow and sharp reef. It is the farthest from shore on Nusa Lembongan.
Surfing in Nusa Ceningan
You can get to the Nusa Ceningan from Nusa Lembongan. It may only has one wave which is located off the Shipwreck tip. It has good small swell, low tide option when Lembongan isn't working. But when it gets higher than 4ft, you will see no beginners there. It is strong, high, and powerful currents.