There are saying that Covid-19 in Bali is low because its under protection of Gods. And this is what makes Bali is unique in other ways! Let's learn more on this island of thousands gods: Balinese spiritual experience.
Blessed with enchanted nature, great waves, and unique traditions, Bali places itself on the list of best tourist destinations.
As soon as you arrive on the island, you can feel different energy and atmosphere that radiate from its traditional and spiritual beliefs.
On your way to every place on the island, you will always see some offerings lie in front of Balinese houses or shops, or even inside them with the smell of incense.
The offerings usually include canang, an offering made from coconut leaves and flowers, and banten, a set of offering which mostly consists of canang, and different kinds of fruits.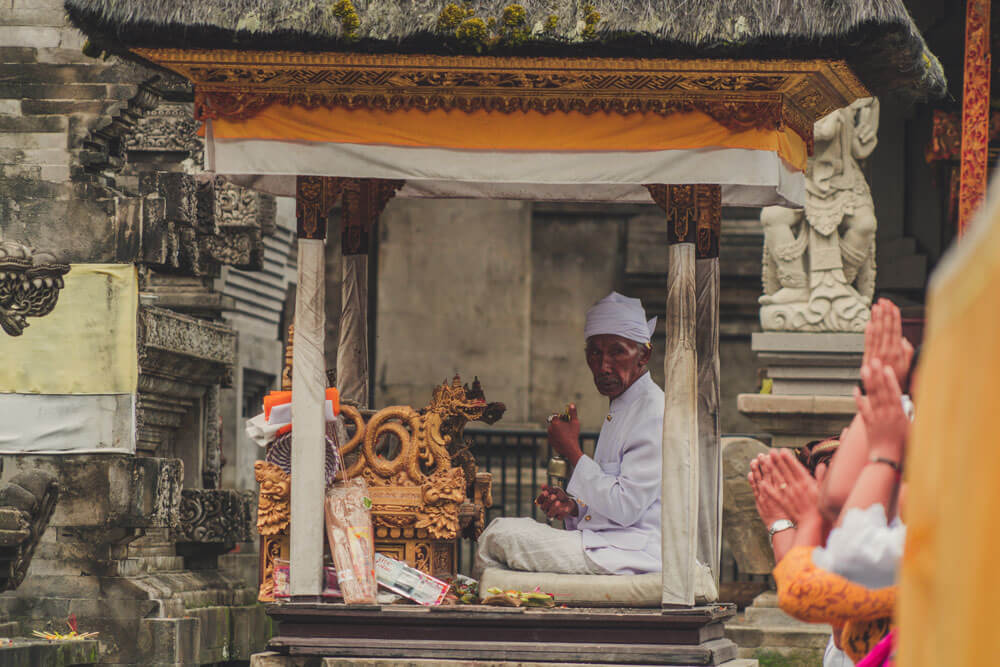 Balinese Spiritual and Philosophical Belief
Balinese believe in yadnya, a holy sacrifice in the form of offerings that come from nature, like canang and banten, as a way to thank God for all of the blessings.
They also hold on the philosophical belief of Tri Hita Karana, a belief of three reasons for prosperity and well-being that come from harmonious relationship with God, the nature, and other human.
The law of Karma is also highly considered. Balinese believe everything that ever happens to us might be the result of what we have done in our present or even past life. Therefore, Balinese always try to only plant good deeds. A Balinese version of you reap what you sow.
Balinese Spiritual Ceremony
Besides the Balinese way of life, the different energy also evolves around the island from the spiritual ceremony that celebrated regularly.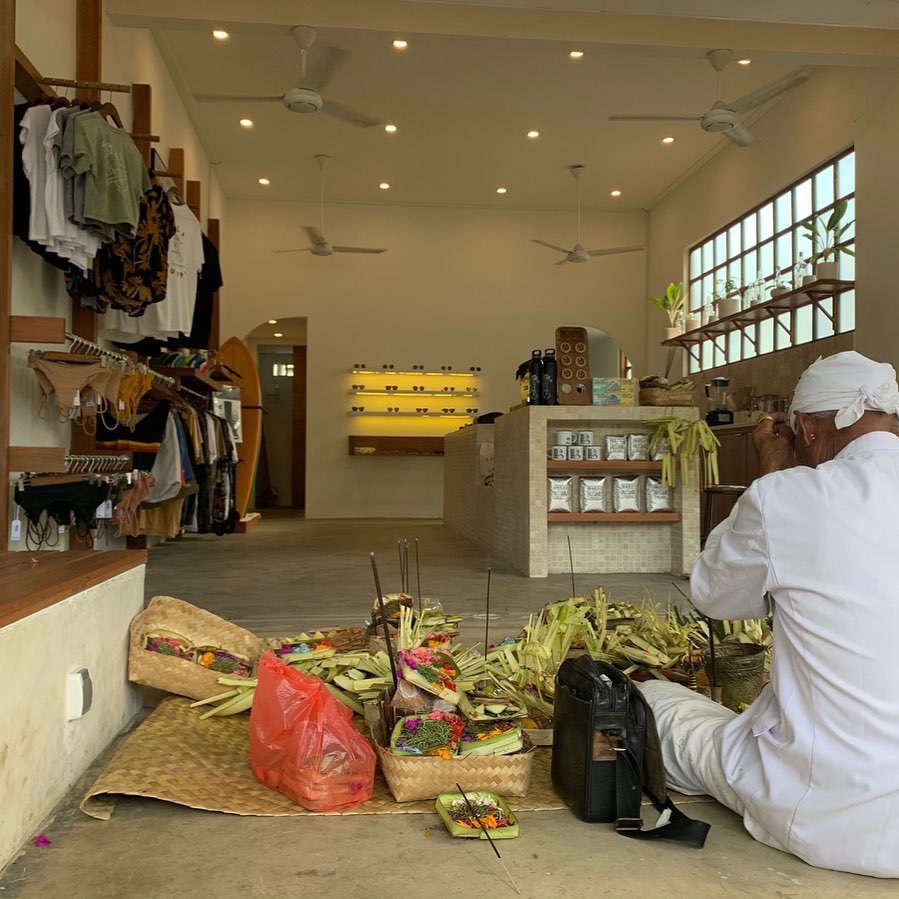 They have daily morning offering, daily three times of praying, and other ceremonies every 15 days, month, 6 months, year, 10 years, to 100 years. Check out this year Balinese Ceremonies Calendar if you want to see the ritual ceremony on your trips – or to avoid traffics.
They are rich in a spiritual ceremony and hold on to them as a heritage and belief. You can clearly see that there is a devotion put in keeping this spiritual heritage.
This devotion is the one that arose the energy and keeps it evolving around the island. And the reason why we keep coming to the island.
Balinese Spiritual Experience
As an emphasis, Balinese do not merely conduct the spiritual ceremony to preserve their heritage. It's their faith and belief of well-being and personal growth.
The praying always involves the peaceful sound of a bell, an accompaniment of sacred singing called kidung, tirta or holy water that symbolizes the grace from God, and bija which is rice that symbolizes prosperity.
Many find that following the Balinese spiritual ceremony or rituals takes them to a unique spiritual experience since they could learn to know themselves better, heal, grow, and release their burdens.
It helps you reconnect with Mother Nature and immerse yourself further into the spirit of Bali.
Ubud is the best place for Balinese spiritual experience. Ever watched that famous Julia Robert's Eat, Pray, Love? The movie is filmed in Ubud.
If you are in need of peacefulness and self-relaxing, we have provided you with a list of Balinese spiritual experience that you can try on the island of God.
Purification Ritual
Purification ritual, locally known as melukat in Bali, which roughly translated as to cleanse. A place where you can melukat is Tirta Empul Holy Water Temple in Tampaksiring, 30 minutes drive from Ubud.
You need to wear sarong which covers your lower body as etiquette to enter any temples in Bali. Then, you are welcome to experience the spiritual aspects of Bali through the purification ritual. *Woman in menstrual cycle not allowed to enter.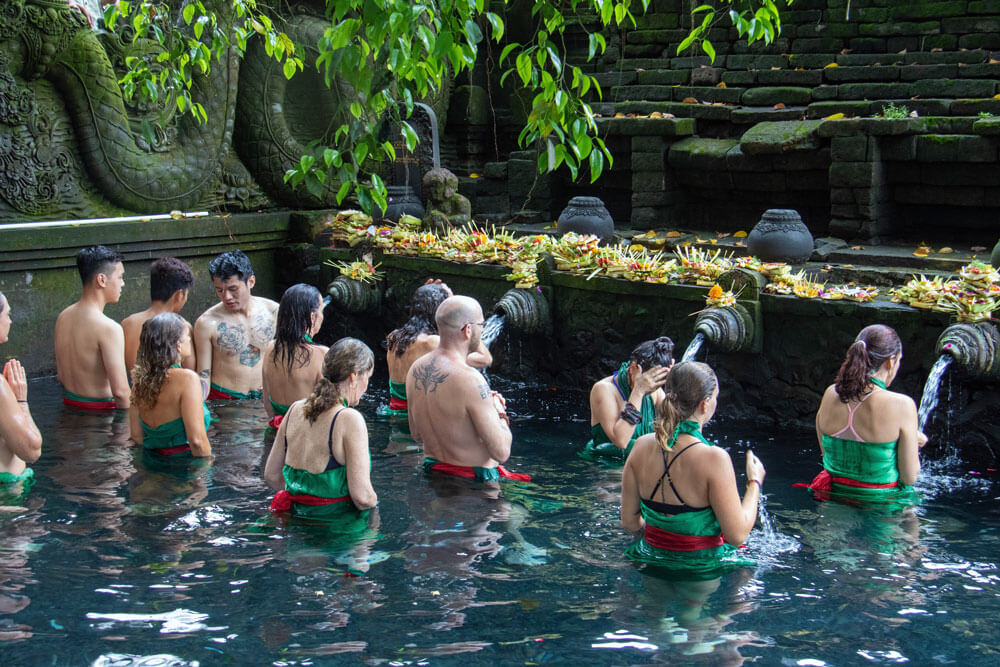 A natural spring inside the main temple feeds the purification pools where people are lining up to pray, dip their head under the water sprouts in the pools, and drink the holy purification water.
The water in the pools, despite being crowded by many, is cool and refreshing. Koi are swimming around the pools with you. They are tame and don't feel threatened by human existence.
Get a healing ritual with the high priestess of Bali
You can always come to any temples in Bali by following the required etiquettes. There is always a Balinese priest, called mangku, who keep every temple in Bali.
Or, you can also visit griya, the home of pedanda, the highest priestess of Bali in Bangli or Ubud. The healing ritual usually involves melukat and praying while the priest chants mantra.
After the session, you will find yourself feeling fresh, cleansed and renewed. You can also ask for some spiritual suggestions or simply ask about the priest spiritual journey.
Balinese priests commonly come from brahmana caste or from their out body spiritual experience that opened their inner eyes.
A good thing about Balinese spiritual experience is that you are always welcome to do this ritual despite your belief since it's only viewed as a way to spread kindness and peacefulness.
Meditate in an ancient temple
Mount Kawi Temple in Tampaksiring is an ancient temple that was built in the 12th century. It's believed that the temple was built by Kebo Iwa, a warrior demi-god who is highly respected.
You can feel profound energy from this temple with the surrounding of lush greenery. The cliff on one side of the temple was magnificently carved into 10 rock-cut candi which are 7 meters high.
It's a great place to meditate and immerse yourself with the spiritual experience in the temple. The sound of the nature, flowers, and the smell of incense offerings will fill your meditation.
Visit an ancient village in Bali
On the eastern shore of Lake Batur, sits Trunyan Village, an ancient and remote village in Bali. The Trunyan people are the pure descendants of Bali.
Trunyan Village preserves a unique tradition that you can't find in other regions in Bali. People who died are placed in an open-burial cemetery and the skulls and bones are lined up in the entrance of the graveyard.
A Taru Menyan tree is standing firmly in the cemetery, exudes a strong fragrant that removes the odour of the open-burial decomposing bodies.
A friendly reminder, look up Trunyan Village in Google Images. If you can handle the images, you can try the live view and visit the village.
Visiting this ancient village will bring you to another level of Balinese spiritual experience. The quietness of the remote village, the lined-up skulls and bones, and the dead people that you can clearly see, everything will truly be a new spiritual experience to you.
Ubud Yoga class
Providing both mind and physical relaxation, yoga always stands as a way to have a spiritual experience. The best place that you can visit to do yoga in Ubud, the radiating spiritual place in Bali.
No matter what levels of yogi you are, you can always have a quality yoga in classes offered in Ubud. Plus, other spiritual places like temples, rice fields, rivers, and also rainforest are also closed from Ubud.
Kecak Dance
Music has always been a part of every ceremony in Bali. Music has also blended as a part of the culture in Bali in combination with Balinese dances.
One of the dance is Kecak Dance which you can watch in Uluwatu once the sunsets. The dance itself presents the story of Ramayana, an epic Sanskrit from ancient India.
Performed in an open-air theatre, you can find yourself falling to the performance as well as adoring the beauty of the sunset from the Uluwatu cliff and see the beautiful Uluwatu Beaches.
Doing these activities will let you feel the religious and traditional spirits of Bali. Some of the Balinese spiritual experience might require some efforts as there are usually steep stairs going into Bali's Temples.
But still, your discovery will lead you to a remarkable spiritual experience that will introduce you to another way of life that reconnects you to the Mother Nature.