This post is written in 2018, but the VISA extension process is always changing. And so this post is updated to October 2020 and we will always try to keep it up to date. We just updated information on Visa extension, especially on how to do online visa application regarding this current situation of Corona Virus in Bali. Please read thoroughly and share with your friends.
Visa Extension in New Normal?
If you came to Bali with Visa on Arrivals, or the visa you bought at the Airport then you need to do the extension. There is no limit to do extension for VoA for now. So you have to do an extension for VoA every month until the Covid-19 situation is declared clear by the government.
You can do visa extension for Visa on Arrival or any types of expired Visa at immigration offices. Per 22 September 2020, Immigration offices Bali do not serve walk-in service. You need to register / schedule your date online. Click here for Denpasar Office, and here for Ngurah Rai Office.
This costs money and time because you have to do it every month. But you can apply for a new Visitor Visa or Temporary Stay online without leaving Indonesia. This process is called online onshore applications. You need a sponsor who has a local identity card.
This online application also applies to ITAP & ITAS, Visa Exemption Holders that are about to expire without leaving Indonesia.
The requirement for an Extension of Stay Permits
These are the requirements for an extension of stay permits (holders of VOA, Visa B211, D212):
You can extend your stay permits for further stays until the pandemic is declared over by the competent authorities.
The grace period is extended to 5 October 2020.
Application of extension can be made at immigration offices. Lodge the application form along with your passport and substantive visa, and other supporting documents (if required).
Before extending, you need to check available flights. If the flights are available, you must leave Indonesia in 30 days.
If the flights are not available, please extend your permit at the immigration office.
Each of your extended permits is valid for 30 days counted from the date of your application.
Online Onshore Visa Application
To help tourists & foreigners in Indonesia to do Visa Application, an online visa service is open on 3 August 2020 until 5 October 2020.
Download & Read the official announcement here.
Foreign nationals holders of Immigration Stay Permit in Indonesia can apply for a visa without leaving Indonesian territory.
2 Types of Onshore Visa Application that can be made in Indonesia by foreigners:
Visit Visa (Visitor's Visa)
Temporary Stay Permit (VITAS)
How to do an online visa application? First, apply a new visa telex Application on visa-online.imigrasi.go.id. The online service starts on August 3rd.
After your new Visa telex is approved, you can collect your new visa at immigration offices without any visa applications you make at Indonesian Embassy or Consulates Overseas.
Visa telex and Visa fees refer to the Indonesian Government regulation no.28 of 2019 on non-tax revenue.
Besides, foreigners with previous visa telex that was issued before at Indonesian Embassy or Consulates overseas can apply Visit Permit or Temporary Stay Permit after completing visa payment at immigration offices.
This visa application process is extended until 5 October 2020, meaning you should have the telex visa before 5 October 2020, otherwise you will be liable to an overstay penalty.
How do to online visa application?
Okay, the first thing to understand is Bali (whole Indonesia) has not opened its border for general international flights/tourists but only for those Indonesian citizens abroad and those KITAS holders.
Another important thing to note is that you have only until one week before 5 October 2020 to submit your application. This is because the process takes up to 5 days. If you get the telex after 5 October then each day will be count as an overstay penalty until you get the telex.
The online visa application is mandatory only for foreigners who already in Indonesia, therefore must apply using the online application.
You need a sponsor in Indonesia, but if you are in Bali, you need a local sponsor with KTP (identity card) registered in Bali. The sponsor first will have to register himself/herself online on https://visa-online.imigrasi.go.id/register/index.xhtml
After getting approved to register(the verification process takes 1×24 hours). If failed, your sponsor will have to register again with correct data.
After getting approved, your sponsor will get login detail to access the visa application then have to apply for your visa again on the same website. Read here for the full guide.
Can I get into Bali now?
Indonesia still restricts visitors or foreigners to enter Indonesia territory, and of course it includes Bali.
But there are some exceptions and loophole in that regulation. Some of them are:
You can apply for Offshore Visa Application online – a temporary stay visa for a family reunion (visa index C317).
You can enter Indonesia with Business Visa. This is a complicated process since you need official docs from government such as Work Documents, Employers, etc. Get an agent to do it!
That's all you need to know about Bali Visa in Corona's time. For the extension on any type of Visas, the process is just the same as the old days – the difference is that you have to do online registration first before going to Immigration offices – read the guide below.
Things to know before booking your flight to Bali
There seems to be a lot of confusion on the subject of extending a Visa on Arrival in Bali and the rest of Indonesia. Probably because it's difficult to find any official information on how to extend your visa but you have two options.
Give yourself at least 14 business days (or more) to take care of your VOA extension, and pay special attention to holidays and local celebrations. Check the 2020 Bali Ceremonies & Holidays Calendar to know when the offices will be closed, which could cause delays. This process must be started before your original 30 day visa has expired or you will be fined 1,000,000 IDR per day until you start the visa extension process.
The only information you can get is from someone who already extend their visa. We will break down both methods and explain the pros and cons of each.
Before being allowed to board your flight to Bali, depending on your departure airport or airline, you may be required to show your exit tickets from Indonesia before being allowed to board your flight to Bali. (Technically travelers are required to show proof of exit of any country when entering on a standard visa.) Keep in mind even with a visa on arrival extension you can only stay in Bali for 60 days maximum.
If you are coming to Bali for 30 days or less most countries (exactly 169 countries) are allowed to enter free for 30 days. Once you enter Bali this visa CAN NOT be extended. If later you decide to stay longer you will need to leave the country and reenter.
If you plan on staying in Bali for 31 to 60 days, DO NOT opt for the free 30 day VOA, as it can not be extended. Instead, purchase the $38 USD (thanks Morgan for the update) Visa on Arrival at the immigration counter at Bali's Ngurah Rai International Airport, which can be extended up to 60 days.
The 60 day visa on arrival is not equal to 2 months. The day you arrive counts as day 1, so avoid any trouble by counting your days correctly! The fee for overstaying your Visa is now 1,000,000 IDR per day (2020 update).
If you are already in Bali, then…
Some of you reading this may already be in Bali and trying to find the best information out there about extending visa. In this case, see which Visa you have. Did you buy the VOA at the immigration counter in Ngurah Rai airport or you are one of 169 countries that can enter visa free? If you buy the VOA then you have time to take care of extension. If you enter visa free, then you need to do Visa Run.
The Visa Run & How To Do It Properly!
As you enter Bali Visa Free, then you only have 30 days staying here. You can't extend in anyway around. There are maybe some agents that say they can do it, but it's not legal and may cost you alot. Or if you purchase Visa on Arrival and already stay for 2 months / maxed out the extension limit.
The only way you can extend your visa in such condition is The Visa Run. Basically you need to leave Indonesia, book and fly to Indonesia's neighboring countries. Singapore may be the best option. It is cheap, may cost you only around 100-200USD round trip. On your arrival in Bali, make sure you opt for the 38USD VOA at the immigration counter.
If you are doing visa run, you must stay one night in the visited country. Staying there just for several hours will get you into detention. No matter what reasons!
Tip: Always try to find out about other contries visa policy to which you are flying. Sometimes they open, sometimes they closed! Always keep your exit ticket & never mention you are on Visa Run. If you arrive in Singapore (or any other countries that you want to do visa run) just say that you are there to meet friends or work stuff. Never mention visa run to immigration officers.
Bali Visa Immigration Fee
Bali Visa on Arrival (VoA) which can be purchased at Ngurah Rai Airport is IDR500,000 (roughly USD$35). The VoA is valid for 30 days and can be extended only once for 30days. In total, with VoA you can stay in Bali for 60 days. While the extension fee for VoA is IDR500,000. Here's the complete list for Indonesian Visa Immigration Fee in 2020.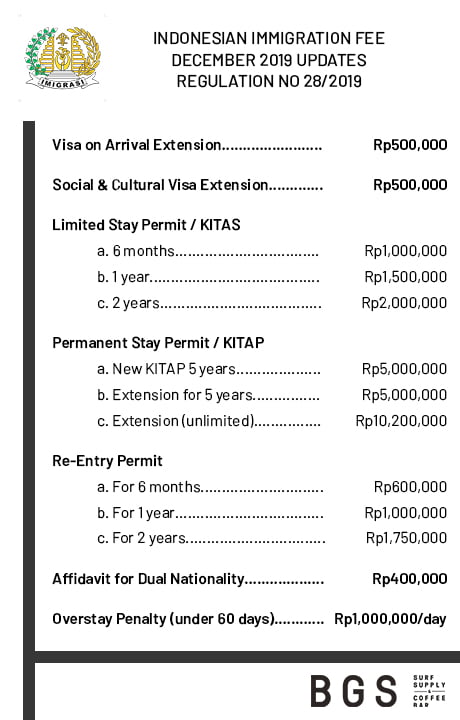 The 2 Options of Visa Extension in Bali
Extend your Visa on Arrival yourself or let an agent do it for you. Hiring an agent will cost you a fair bit of money, however doing it yourself will cost you a fair bit of time. Doing the visa extension yourself will cost IDR500,000 per extension and an agent will cost you around IDR700,000 and IDR900,000.
If you decide to do it yourself you will be required to go to an immigration office 3 times. Or if you hire an agent you will only be required to go to the immigration office once to get your fingerprints and photo taken.
If you choose to extend bali visa on arrival yourself. We will break down what you will need to do for your 3 visits to immigration.
Day One : Dropping of Passport & Paperwork
For your first visit you will need to show up before 11AM and bring everything on the list below. Getting copies done around Bali is easy there seems to be a copy & print shop on every corner, you can email them or bring a thumb drive.
There are currently 3 immigration offices in Bali. Since you'll need to go to the same office a total of 3 times (likely all within a week to 10 days), you'll want to choose the one that's most convenient.
Immigration Offices Address in Bali
Nusa Dua (South Bali) – Formerly the office on Ngurah Rai Bypass Road in Kuta, it has now moved to Jl. Taman Jimbaran no.1, Mumbul, Kuta Selatan, District Nusa Dua, Bali.
Renon (Denpasar, Southeast Bali) – Jl. D.I. Pandjaitan No.3, Dangin Puri Klod, Denpasar Timur, Bali. Phone: 0361.227.828
Singaraja (North Bali) – Jl. Seririt, Desa Pemaron, Singaraja, Kec. Buleleng, Bali. Phone: 0362.321.74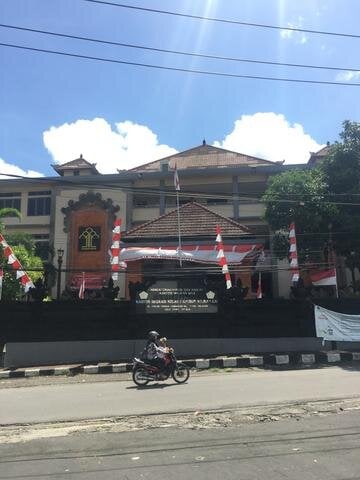 What to bring for Visa Extension process
Black ink pen.
Bring your passport.
Provide one copy of your passport picture page.
Provide one copy of your visa.
Provide one copy of your plane ticket for departure.
Remember, every day you are in Indonesia counts as a full day.
500.000 IDR (around $35USD). You can pay on your first or second visit.
Give yourself at least 7 business days (or more) to take care of yourvisa extension, and pay special attention to holidays and local celebrations when the offices will be closed, which could cause delays. Immigration Offices are typically open from 8am to 4pm (and closed from 12 to 1pm for lunch), Monday through Friday.
Once you arrive, visit the front counter and they will prove you have all the correct paperwork and copies. You will get a form that you have to fill in.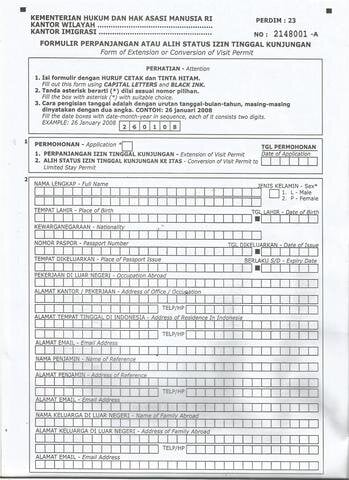 Fill out the paperwork provided, and after that get a queue ticket. Make sure your queue ticket start with letter A. Then just wait for your number to be called to turn in your paperwork.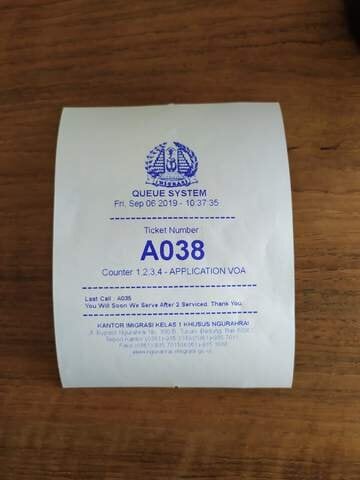 A quick tip: make sure you fill all the paperwork before going to the officer. Or else, they may not serve you even when your ticket number is called.
Day Two: Your Visa Photo & Fingerprint
Make sure you get back to the immigration office according to the schedule given on Cover Letter of Payment. The fee for visa extension is now IDR500.000 as per 2019. You will be required to pay that amount after your second day.The photo machine breaks down all the time so this will likely be your longest day. Upon your arrival, head directly to Counter 2 or 3.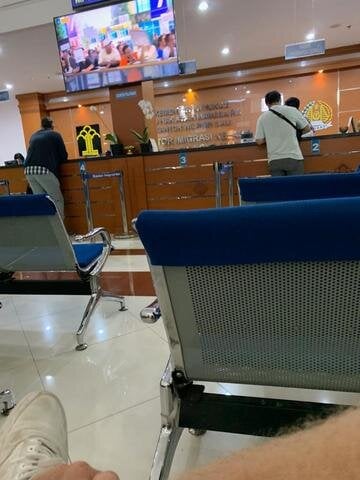 Hand them your documents and they'll give you a ticket with a number starting with the letter D . Wait for your number to be called over the loudspeaker. Once called, go to the photo desk and hand over your ticket.
They will take your photo and scan your fingerprints as fast as possible. They will stamp your paper with a date on when to return to pick up your passport. You will be required to make your IDR500,000 payment the same day.
You can pay your fee at most banks or any Indonesian Post office. At the Nusa Dua office they have a post van parked outside and you can pay super quick and easy.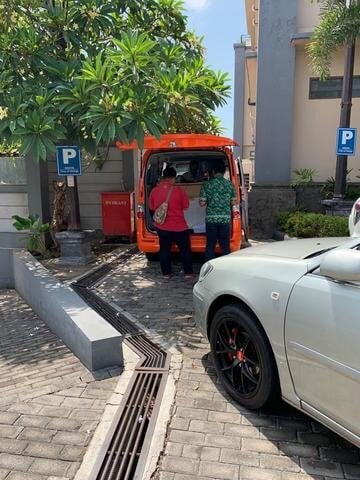 Day Three: Pick Up Your Passport
Most of the time you will be instructed to come back within a week to pick up your passport. But don't worry if you can't come on the given day, if you come a few days after the date to pick it up you will be fine. Head to window 3 give them your ticket and wait for them to call your name.
Pick up your passport with your visa extension when called and sign the register. Before you leave, check to make sure the dates are right. This is very important as it is not uncommon for Bali Immigration Offices to make mistakes. Check it at the counter because once you leave, it will be a lot harder to come back and get things fixed.
I want to live in Bali forever…
Yeah, this is Bali & everyone wants to! The beautiful beaches in Bali, the cultures, the people, the food. These things make us want to live in Bali. Unless you change nationality and have KTP (national identity card) then you need to always take care of your Visa.
There are some Visas that can make you stay longer than 60 days, you can apply for a social visa, 60 Day Tourist Visa, Multiple Entry Business Visa or even a KITAS. But you need to repeat the visa application and extension process over and over again.
Frequently Asked Question
Bali COVID-19 Visa Extension?
For all visa holders, you now have until 19 August to do extension starting from 13 july 2020 to extend your visa. Failure to do so will get you imposed to the administrative sanctions. Read on how to do an online visa application above.
What happens if I overstay while processing extension?
No matter what, if you overstay you will have to pay the penalty fee for IDR1,000,000 per day.
How many days in total I can stay in Bali with VoA?
With VoA, which active for 30 days and can be extended for 30 days (60 days in total).
How to stay longer than 60 days in Bali?
You can use VoA and do visa run! Or you can opt-in for Social Visa, or KITAS/KITAP.
How to count 30 days VoA properly?
The 60 day visa on arrival is not equal to 2 months. The day you arrive counts as day 1, so avoid any trouble by counting your days correctly!
How much is bali visa extension visa?
The price for visa extension in Bali is IDR500,000
How did Kelly Slater get into Bali?
Kelly Slater probably used an agent to get his B211A. But hey, he is Kelly Slater – Bet he is promoting Bali as well. But you actually can visit Bali too! Get a B211a Visa offshore or Business Visa. Some agents are able do to this for around 500$.