To answer the question of "where to surf in Bali for beginners?" or "Best surf spots for beginners in Bali?". For beginners, it's better to take a higher tide to stay safe from hitting the bottom when surfing. There are plenty of good surf spots in Bali for beginners, but these are 5 best ones.
Even though most of the surf spots in Bali are prominent as great options for experienced surfers, there are always other spots that are best for surfers from any levels. So, if you are just starting to surf, it's never too late to take Bali into your list and have an epic surfing experience.
5 Best Surf Spots in Bali For Beginners List:
Kuta Beach
Batubolong aka Old Man's
Padang-Padang Right
Balangan
Medewi
Kuta Beach
Kuta beach is located on the west coast of Bali. It's only about 15 minutes from Ngurah Rai International Airport. So you can either take a taxi right from the airport, or ride your rent vehicles from your hotel.
Kuta beach is the most prominent surf spot in Bali since it is the original spot for surfers and backpackers. It's where you can find anything you need to build your surfing experience, except for empty spot.
Since it is widely well-known, the beach is usually crowded and filled with many surfers from all levels. But still, it is the best, safest, and more adapted spot for you to learn how to surf as beginners.
The bottom of the beach is sand, unlike most of the surf spots in Bali that have a cement-like bottom beach. This enables you to be less worried about hitting the bottom when surfing.
The best tide is mid to high tide while the best wave size is around 2-6 feet. You can cope up with the crowd by trying to find a less crowded spot for yourself since the beach stretches for 8 kilometres long.
The waves break is mellow, giving you more time to learn to stand on your board. The popularity also makes it easy to find rent boards and surf teachers on the spot. A grand spot to ride your first waves! That's why we put Kuta Beach as best beginner surf spot in Bali.
Batubolong aka Old Man's
Located at Batu Bolong Beach street, North Kuta, Badung Regency, Batubolong beach is on the south coast of Bali. The beach is also known by the name Old Man's. It's about 25 minutes Nort from Kuta and is considered as a part of Canggu.
Even though the bottom of the beach is a flat reef, unlike Kuta beach that has a sand bottom, Batubolong beach is relatively safe for beginners.
categoryBatubolong gets into this list of best surf spots in Bali for beginners because the type of waves is fat, friendly, and mellow waves perfect for longboarding and for learning to surf. The best tide is mid-tide and the waves can go up to 2- 8 feet. It is the best surfing spot in Canggu for beginners.
The local's boys also open some boards from any types that you can rent right when you arrive at the parking lot for about $5 per session.
For a tip, the waves tend to break several times, giving every surfer chance to ride the waves. However, don't surf the waves too long as the breaks make it easy to surf straight to the sand which can damage your fins.
Padang-Padang Right aka Baby Padang
Padang-Padang Right aka Baby Padang is one of the best surf spot in Bukit Peninsula.
It's around 20-30 minutes drive from Ngurah Rai International Airport and a pretty quick 10 minutes drive from Uluwatu temple since it's only 3 kilometres north of Uluwatu temple. If you are going from Kuta, Canggu, or Seminyak, then it needs around 1 to 1.5 hour drive in order to arrive there.
Well, you might be familiar with Padang Padang beach, but it's a beach with roar waves that are usually filled with advanced surfers. For you, there's this Padang Padang Right, the little sister that's appropriate for novice surfers.
There's a channel that enables you to easily paddle-out, which is great reason to be in this list of best surf spots in Bali for beginners. You don't need to frustratingly fight with feisty white water that constantly rolling, making it difficult for you.
To start surfing, you can try riding white water while for more development in technique, you might as well try riding the unbroken waves.
The break is a soft reef break that goes both left and right, which is great for practising going both ways. The swells can head high between 4-8 feet. However, it's best to surf on smaller days when the swells only about waist to head high since bigger ones can get too strong.
Balangan Beach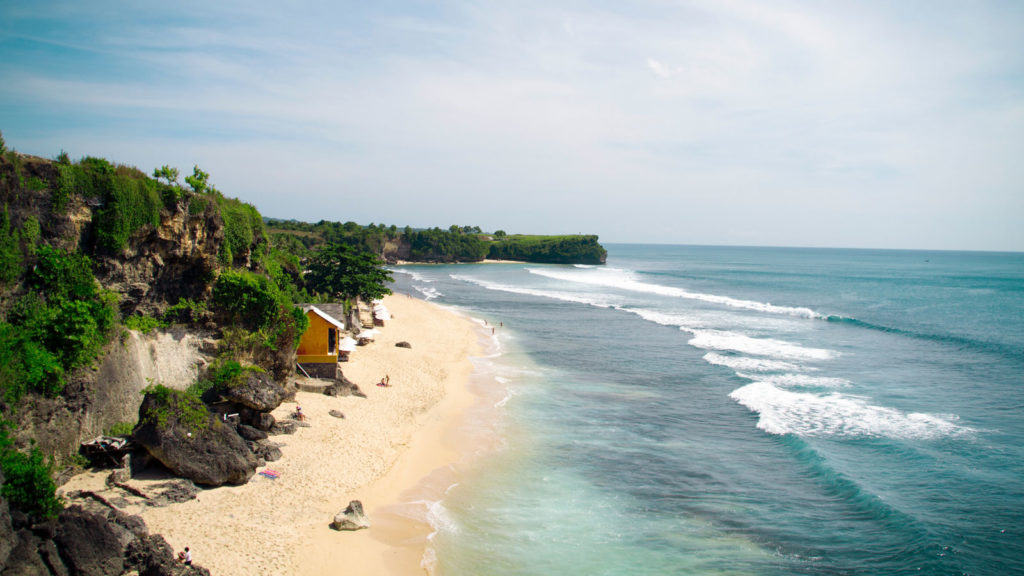 Balangan offers both beautiful beach and great waves that can both pleased your eyes and surf hunger. Riding the turquoise waves is a popular thing to do in the area.
The waves can range from 4 to 15 feet. It is usually a steady, medium-fast left break that can be surfed on all tides.
Balangan beach is actually a surf spot for all levels. You can enjoy riding the smaller swells since the big waves are commonly occupied by the pros.
There are many affordable water sport activities that you can do while visiting this beach. So, you can have three possible activities here, enjoying its beauty, riding its waves, or trying the water sports.
Medewi Beach
Situated around 2 hours drive to the northwest of Kuta, on the island's southwest coast, Medewi beach is far away from the hustle-bustle of the crowds in Kuta beach. It is located in Medewi, Pekutatan, Jembrana regency.
Medewi beach is mostly the reason why travellers come to Medewi village, a small village of the least visited area in Bali. The beach is known for its smooth left-hander swell and wonderful 30-second long waves that can help you build balance and turning skills.
The waves are mellow and can range from 4 to 6 feet and are bestrode in the early morning. It's well-known as a friendly spot for all levels of surfers and a delightful spot to enjoy local seafood restaurants once you are finished with your ride.
So, even though it's far away from the crowd of Kuta beach, Medewi beach is quite filled up. So, it's best to come early for an empty spot.
A friendly tip if you are going to Medewi Beach, or any beaches in West Bali, then you should buy and prepare all of the surfing equipment & accessories especially Wax, Suncreen, and Surf Tool because the place is quite remote and far away from the city and don't have any surf shops.
If you happen to forget all those or break yours surf gears, you can shop online at our Surf Shop and we will get it delivered there.
Note
Those are the list of best surf spots in Bali for beginners. Even though it might be fun to explore challenging waves for more experience, it's better to stick with your comfort zone for now. Don't push yourself on uneasy waves that can be dangerous for yourself.
Just remember to consider the guide & surfing tips before and make sure you pack everything you need before heading to Bali and the beautiful beaches.