Balinese Calendar 2020 – What makes Bali unique is their cultures. They have their own naming system, and Bali ceremonies happen almost all year. It's because Bali local citizens are mostly Hindu and they have their own Balinese Calendar, Lunar-based calendar system called the Çaka calendar.
Most of the year the Balinese Hindu has ritual prayers. Not only just daily ceremony, but there are also weekly, monthly, six-monthly, and yearly Balinese ceremonies. This is what makes Bali sometimes called as BAnyak LIbur (lots of holidays).
With that being said, Bali has its own Public Holidays. Some are mandatory holidays like Nyepi, Galungan, Kuningan and some are optional/private ceremonies depends on Banjar and Balinese Family cultures.
All forms of worship rituals performed are a form of prostration of gratitude. You can read about the Balinese Spiritual Experience to learn & experience the ceremony yourself.
While this is what makes Bali really unique and gets lots of tourists, on the other hand, you can stuck in traffics for hours because most of the ceremony will occupy public road. Balinese can walk miles while wearing traditional outfits and bringing offerings to the temples and beaches.
So we make this Balinese Calendar 2020 for those of you who like to see Bali festivals & ceremonies, cultural tours, and are curious about how the solemn worship rituals on this Island of Gods.
This guide can also help you to avoid overcrowded paths because there are prayers during your tour. Instead, you can visit the most outstanding beaches or do exciting things in Bali.
Notes:
Bold text denotes national holidays in Indonesia
Bold and italic text denotes national & all Balinese Holidays
Italic text denotes local/facultative Balinese holidays. Personal & usually just some local communities that do these ceremonies.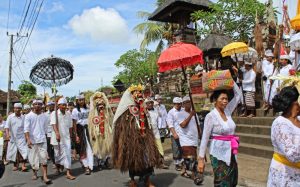 Balinese Calendar 2020 – January in Bali Ceremonies & Holiday
Wednesday, 1 January 2020 – New Year
Wednesday, 16 January 2020 – Buda Kliwon Gumbreg
Saturday, 25 January 2020 – Shiva Ratri Holy Holiday & Imlek, & Tumpek Wariga
Wednesday, 29 January 2020 – Buda Cemeng Warigadean
Balinese Calendar 2020 – Ferbuary in Bali Ceremonies & Holiday
Tuesday, 4 February 2020 – Anggara Kasih Julungwangi
Saturday, 8 February 2020 – Purnama Sasih Kawulu
Tuesday, 18 February 2020 – Penampahan Galungan
Wednesday, 19 February 2020 – Galungan Ceremony
Thursday, 20 February 2020 – Umanis Galungan
Sunday, 23 February 2020 – Tilem Sasih Kawulu
Friday, 28 February 2020 – Penampahan Kuningan
Saturday, 29 February 2020 – Kuningan Ceremony
National & Bali Ceremonies Holiday in March
Wednesday, 4 March 2020 – Buda Cemeng Langkir
Monday, 9 March 2020 – Purnama Sasih Kesanga
Tuesday, 10 March 2020 – Anggara Kasih Medangsia
Sunday, 22 March 2020 – Isra Miraj
Tuesday, 24 March 2020 – Tilem Sasih Kesanga
Wednesday, 25 March 2020 – Nyepi Ceremony
Thursday, 26 March 2020 – Ngembak Geni
National & Bali Ceremonies Holiday in April
Saturday, 4 April 2020 – Tumpek Krulut
Tuesday, 7 April 2020 – Purnama Sasih Kedasa
Wednesday, 8 April 2020 – Buda Cemeng Merakih
Friday, 10 April 2020 – Good Friday
Tuesday, 14 April 2020 – Anggara Kasih Tambir
Wednesday, 22 April 2020 – Tilem Sasih Kedasa
Wednesday, 29 April 2020 – Buda Kliwon Matal
National & Bali Ceremonies Holiday in May
Friday, 1 May 2020 – Labor Day
Thursday, 7 May 2020 – Waisak
Thursday, 7 May 2020 – Purnama Sasih Jiyestha
Saturday, 9 May 2020 – Tumpek Uye
Wednesday, 13 May 2020 – Buda Cemeng Menail
Tuesday, 19 May 2020 – Anggara Kasih Perangbakat
Thursday, 21 May 2020 – Ascension Day of Jesus
Friday, 22 May 2020 – Tilem Sasih Jiyestha
Sunday to Monday, 24 & 25 May 2020 – Idul Fitri
National & Bali Ceremonies Holiday in June
Monday, 1 June 2020 – Pancasila
Wednesday, 3 June 2020 – Buda Kliwon Ugu
Friday, 5 June 2020 – Purnama Sasih Sadha
Saturday, 13 June 2020 – Tumpek Wayang
Wednesday, 17 June 2020 – Buda Cemeng Kelawu
Saturday, 20 June 2020 – Tilem Sasih Sadha
Tuesday, 23 June 2020 – Anggara Kasih Dukut
National & Bali Ceremonies Holiday in July
Saturday, 4 July 2020 – Saraswati Holiday
Sunday, 5 July 2020 – Purnama Sasih Kasa
Wednesday, 8 July 2002 – Pagerwesi Holiday
Saturday, 18 July 2020 – Tumpek Landep
Monday, 20 July 2002 – Tilem Sasih Kasa
Tuesday, 28 July 2020 – Anggara Kasih Kulantir
Friday, 31 July 2020 – Idul Adha
National & Bali Ceremonies Holiday in August
Monday, 3 August 2020 – Purnama Sasih Karo
Wednesday, 12 August 2020 – Buda Kliwon Gumbreg
Monday, 17 August 2020 – Indonesia Independence Day
Tuesday, 18 August 2020 – Tilem Sasih Karo
Thrusday, 20 August 2020 – Islamic New Year
Saturday, 22 August 2020 – Tumpek Wariga
Wednesday, 26 August 2020 – Buda Cemeng Warigadean
National & Bali Ceremonies Holiday in September
Wednesday, 2 September 2020 – Buda Cemeng Langkir
Tuesday, 15 September 2020 – Penampahan Galungan
Wednesday, 16 September 2020 – Galungan Holiday
Thursday, 17 September 2020 – Umanis Galungan
Thurday, 17 September 2020 – Tilem Sasih Katiga
Friday, 25 September 2020 – Penampahan Kuningan
Saturday, 26 September 2020 – Kuningan Holiday
Wednesday, 30 September 2020 – Buda Cemeng Langkir
National & Bali Ceremonies Holiday in October
Thursday, 1 October 2020 – Purnama Sasih Kapat
Tuesday, 6 October 2020 – Anggara Kasih Medangsia
Friday, 16 October 2020 – Tilem Sasih Kapat
Wednesday, 21 October 2020 – Buda Kliwon Pahang
Thursday, 29 Oktober 2020 – Prophet's birthday
Saturday, 31 October 2020 – Purnama Sasih Kalima & Tumpek Krulut
National & Bali Ceremonies Holiday in November
Wednesday, 4 November 2020 – Buda Gemeng Merakih
Tuesday, 10 November 2020 – Anggara Kasih Tambir
Sunday, 15 November 2020 – Tilem Sasih Kalima
Wednesday, 25 November 2020 – Buda Kliwon Matal
Monday, 30 November 2020 – Purnama Sasih Kanem
National & Bali Ceremonies Holiday in December
Saturday, 5 December 2020 – Tumpek Uye
Wednesday, 9 December 2020 – Buda Cemeng Menail
Monday, 14 December 2020 – Tilem Sasih Kanem
Tuesday, 15 December 2020 – Anggara Kasih Perangbakat
Friday, 25 December 2020 – Christmas
Tuesday, 29 December 2020 -Purnama Sasih Kepitu
Wednesday, 30 December 2020 – Buda Kliwon Ugu