Bali's known for its breathtaking beaches, pumping surf, and spiritual retreats. Salty hair, sun-kissed skin and that book you've been dying to get stuck into for months beach life doesn't get much better than that.
Whether you are looking for isolated stretches of soft, white sand, secret coves directly under towering limestone cliffs, or black sand beaches there is surely a secret beach for you in Bali. Grab some Bintangs, pack up your sunscreen, and get your favorite tunes ready. Here is a list of our 5 favorite low key good vibe beaches in the Uluwatu Bukit Peninsula.
Thomas Beach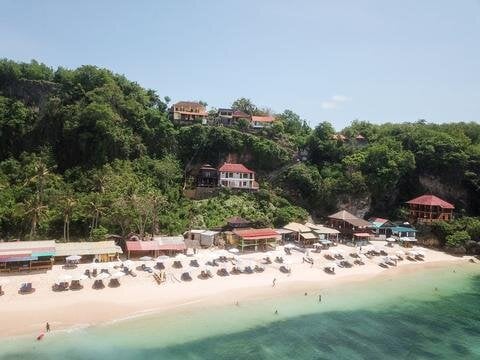 This gem is the heart of the Uluwatu Bukit Peninsula, yet remains relatively quiet. With the picturesque calm, blue waters and white sand, this beach is the best beach for a swim. Swimming is best during higher tides as there is a coral, rocky bottom. However, during lower tides, this is a great spot for kids to swim in the coral pool pockets and collect shells.
Bargain with the locals to snag a beach chair and umbrella for a few hours to catch up on your tan or block the shade. And bonus if you are sore from surf or just want to relax, you can get a cheap massage. Option to just chill in the smooth sand too as it is kept clean by the locals. While you don't have to pay to enter, be prepared to walk down a steep flight of 100+ stairs for beach access.
Padang Padang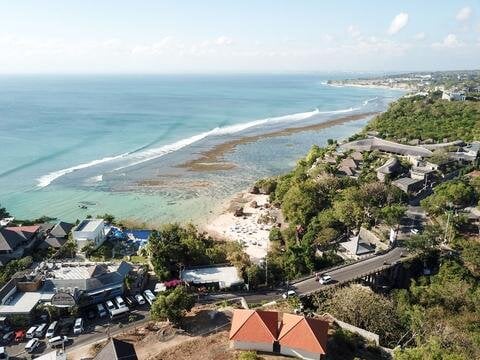 Padang Padang is the most popular and busiest beach on our list but with its golden sand and clear aqua waters, it's well worth the visit. Literally a scene out of a Hollywood movie, "Eat, Pray, Love". Padang Padang is known for having one of the best waves to surf in Bali as well as one of the biggest most savage waves..
To get to Padang Padang Beach visitors must walk a narrow cave though the limestone cliff and down dozens of stairs hardly wide enough for one person. A very unique experience in itself, be careful of the monkeys still will be trying to snatch your sunglasses and snacks. Once past the stairs, white sand and calm clear water will open itself up for you to explore. Be sure to barter with the local venders to get your Padang Padang t shirts and other treasures handmade by the locals.
Balangan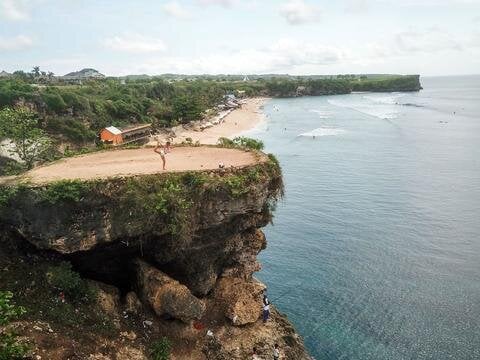 Balangan is one of Bali's lesser known beaches, best known amongst the surfing crowds as one of the best surf spot in Bali and those looking for a laid back beach day without hustle and chaos of a beach club or touristy beach. Surfers and Mermaids alike can enjoy the turquoise waters at high tide, and lively tide pools on low tide. Grab a beach chair and umbrella for 100k and get ready to spend the day napping and enjoying the sounds of the ocean rushing up the sand.
The long quiet stretch of white sand is still fairly underdeveloped with just a few warungs serving home-cooked Indonesian food, ice-cold Bintangs, and cold coconuts. Balangan offers waves for everyone from beginners to experts alike. Balangan attracts the more mellow crowd who prefer cool tropical beach vibes over the party scene. Unique to Balangan the grains of sand are, by and large, and perfectly spherical.
Nyang Nyang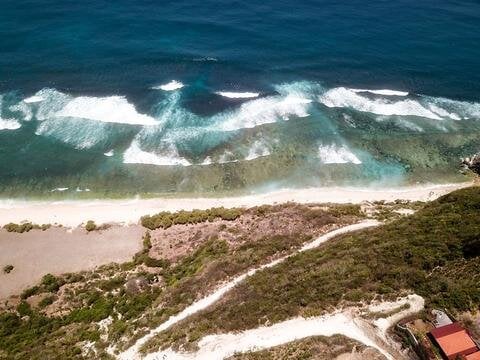 Bali has become one of the most popular travel destination for 2018 and it's said there are no more "secret beaches" left. However, Nyang Nyang has managed to keep its location and identity on the low down. For more reasons than one, but mainly its 1.5 kilometer walk down a steep dirt track in the heat and humidity. Once you make the trek down, Nyang Nyang is one of the cleanest and most beautiful beaches in Bali. Blinding white sand and turquoise water, it is simply magnificent.
On a crowded day there are maybe 10 or 15 people on the 3 kilometer stretch of untouched white sand. Nyang Nyang truly makes you feel like you have your own piece of paradise. When we say private and deserted, this is truly deserted, i.e. no drink stalls, no warungs, no umbrellas be sure to bring everything you need and plenty of water. Get ready to enjoy a slice of paradise.
Green Bowl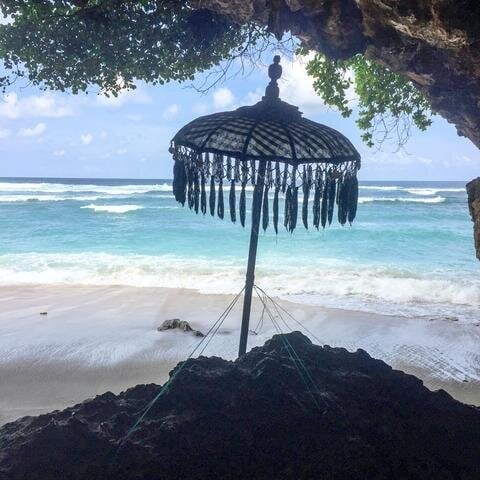 Green Bowl is another one of Bali's hidden gems and one of its most secluded beaches. When arriving on top of the cliff, be prepared to fight off monkeys and bracelet selling locals. Not sure which are more persistent. After sneaking away get ready to climb down 300 or more tall steps down to the sand. The trip down ensures that his piece of the beach has an appeal to the adventurous and strong-willed.
Green Bowl is known for its unpopulated waves and mind-blowing caves beneath the limestone cliffs. The caves serve as a small shrine and home to hundreds of small fruit bats during their daily slumber. Like many other beaches located in the Bukit Green Bowl has pristine white sand and clear water perfect for snorkeling on the higher tide. Be aware of the higher tidewater will fill the caves leaving them inaccessible, the water will also take over most of the sand on the small beach.