These beaches are open , after being closed due to the coronavirus in Bali. Even tho' the water is cooler now, it's the best time to surf in Bali. We have had a great run of swell the last few weeks
From beginner to advanced, there is a wave for everyone on the Bukit Uluwatu. Here are some of the Bali best surf spots in Bukit Uluwatu. For a beginner, check this list of 5 best surf spots for beginners in Bali.
Despite the name "Bukit" Peninsula meaning the "hill", it has an established reputation as being home to some of the best surf spots in the world. It's not surfing in Bali without having a session at the Bukit's surf spots.
Home to friendly locals, delicious authentic cuisine and inviting accommodations; The surf spots on the Bukit deserve much more than a day or two to really experience them.
Unpaved roads have kept the Bukits magnificent beaches from becoming too overcrowded and will give you the feeling as if you are entering a secret paradise, especially at sunset time.
You are reading this but not on the Bukit and in Bali? Then book a ticket and make a plan to visit, the waves are empty and firing. But first, read our guide on airline surfboard fees and charges.
Uluwatu Beach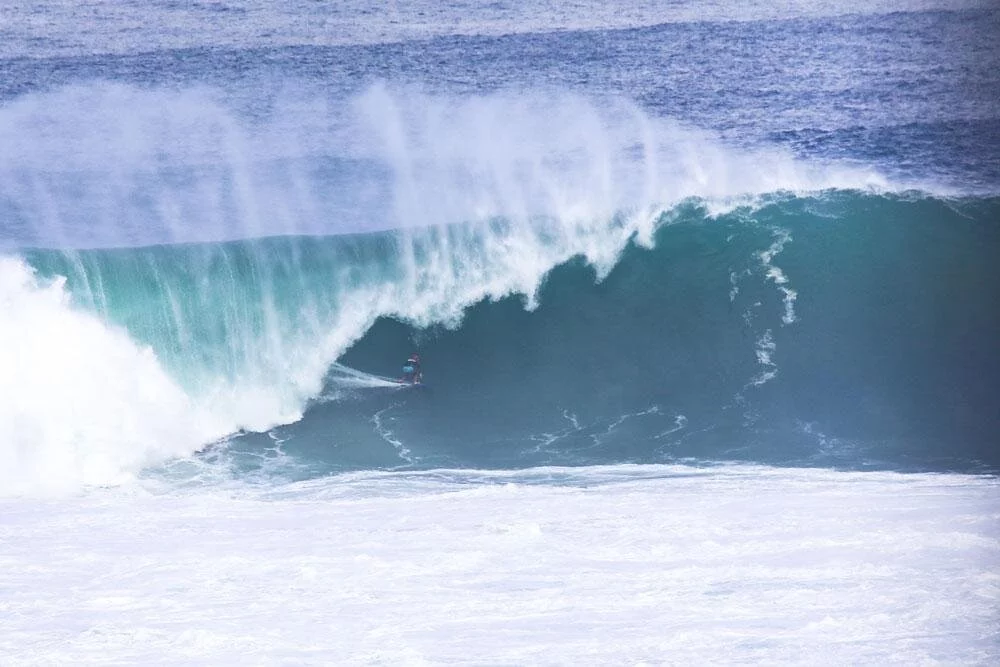 Uluwatu surf beach is front and center of Balinese surfing thanks to its ability to handle any swell size across a wide reef playground. Waves in Uluwatu are very consistent with hollow walls that always produce great waves. We could say Uluwatu beach is one of the top best surf spots in Bukit.
Surfing in Uluwatu could be dangerous for beginners. When swells are maxed out, the Outside Corner will come to life. The Peak is directly in front of the famous cave on your paddle out but can be a bit shifty. Beware of the strong current or you might end up in Padang Padang.
Crowds become a factor when the waves are under 5 feet. But when the swell is good, this is the go to big wave spot in the Bukit. Remember to bring your reef booties and some cash for a Bintang and a cup of the best almond milk latte at BGS Uluwatu.
Level: Intermediate, Advanced, Experts
Access: Walk down the steps under Single Fin.
Required to pay 5k Rupiah parking fee.
Padang Padang Beach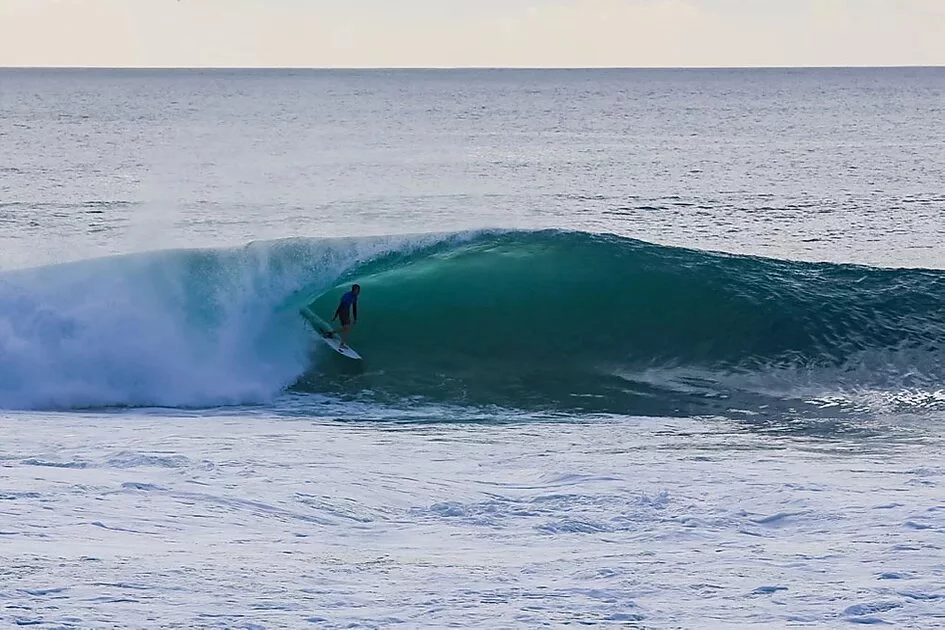 The next best surf spots in bukit is Padang Padang beach. It is the most serious wave for surfing in Bali, but it only starts to work when there is a big swell. Padang Padang Waves come in quick from deep water and breaks along a shallow reef that creates a very fast long barreling wave to surf. The wave is the biggest and hollowest wave in the Bukit.
This famous break is where pros and experts come to sharpen and test their skills. Surfers return year after year to surf the Balinese Pipeline to experience this radical and gnarly wave. Padang padang also is the home for Rip Curl Padang Padang Cup.
Because of the world wide fame, Padang can get crowded with heated flare ups due to drop ins. Best time to catch this wave is early morning if the tide conditions agree. Be careful when surfing the Padang Padang Beach in Bali because at its best, it is also incredibly dangerous due to the heavy wave, shallow corral, and jagged rocks.
Level: Expert only
Access: Walk through the gate entrance at the main road to gain beach access down the stairs.
Required to pay 10k Rupiah entrance fee.
Padang Padang Right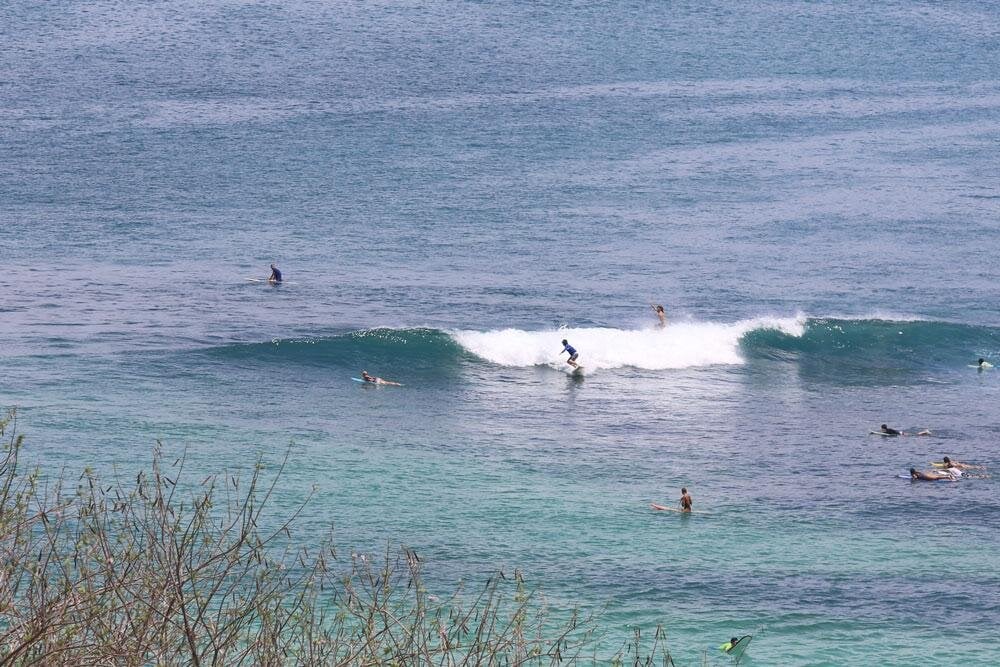 Padang Padang Right is also known as Baby Padang. Located to the right of the famous Padang, it is a soft mellow break due to the shape of the reef. Waves break both left and right. Left is a long left and can be ridden almost to Impossibles. Easy paddle out for beginners through the channel. Baby Padang could be the best surf spots in bukit for beginners.
While it can get crowded with surf schools, this is the spot to learn if you are new to surf and have a short time in Bali or if you are transitioning between surfing the white wash and unbroken waves. With easy green waves, you will be sure to get up your first day. And on days when the swell is big, the outside can be pumping. Great for intermediate surf.
Level: Beginner, Intermediate
Access: Walk through the gate entrance at the main road to gain beach access down the stairs.
Required to pay 10k Rupiah entrance fee.
Impossibles Beach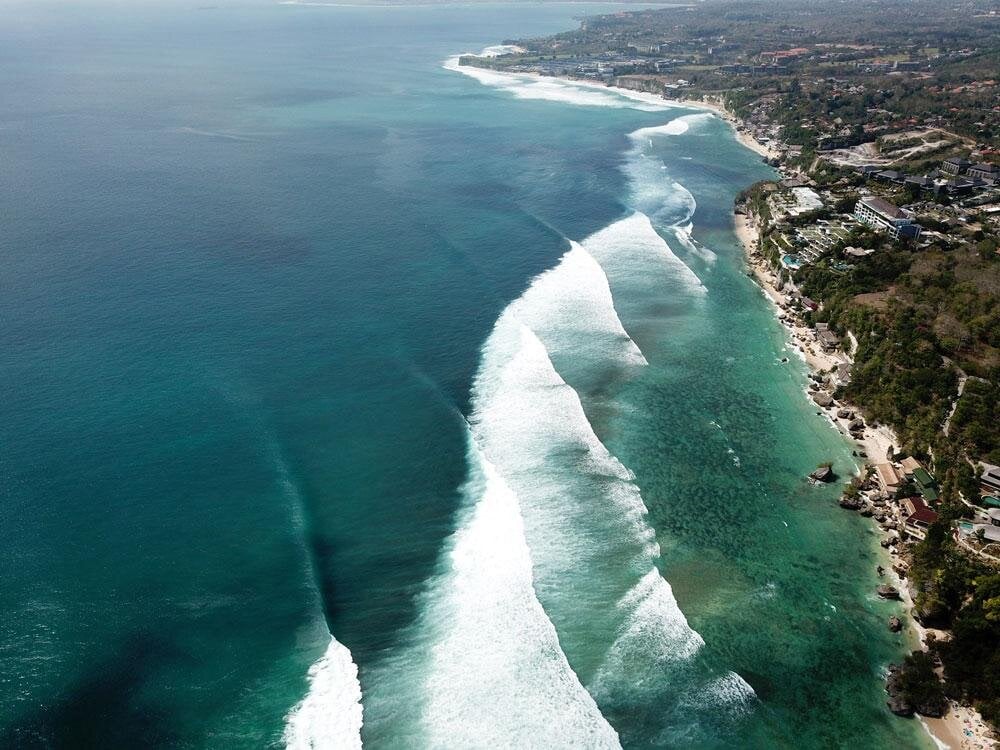 Next on this best surf spots in bukit list is Impossibles beach. Impossible beach is comprised of 3 separate Peaks on this wide reef. When it lines up, it is arguably one of the most beautiful photogenic waves in the world.
When wave height gets above 1.75m and the tide is mid range, you can expect the longest waves in the Bukit. Good swell and wind conditions, surfers could ride this wave up to 400m all the way to pick up your Bintang on the beach.
With high consistency, you can almost always get waves at this break. Perfect playground to practice your turns. However, frequently Impossibles can be deceptive with racey sections. Due to how quickly this wave breaks, it is almost exclusively for advanced surfers. But when the swell is smaller, the intermediate surfers can join the fun.
Level: Intermediate*, Advanced
Access: Paddle out through Padang Padang or Bingin Beach.
Bingin Beach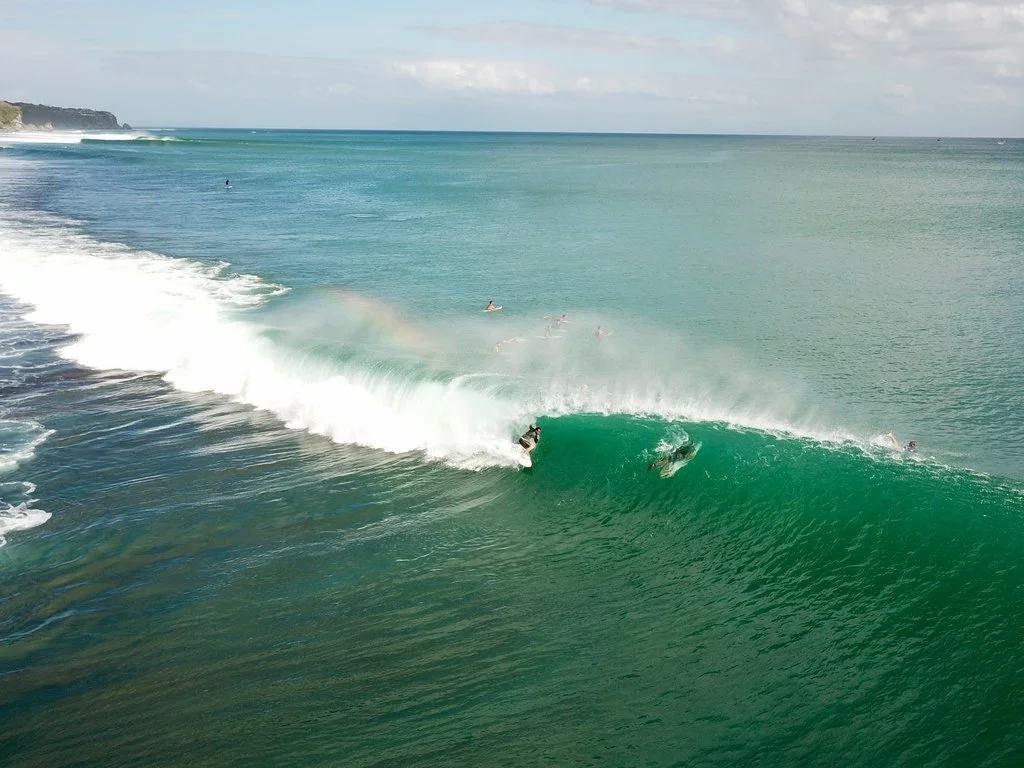 Bingin swell is the most perfect wave in the Bukit surf spot. Waves are not as big as Uluwatu's but share the same reef. This strong left hander is a wave machine with consistent barrels. With super hollow barrels, this paradise brings out the adrenaline junkies to play. Catching a good wave in time is challenging because of a small takeoff spot which also leads to long lines.
Surfing in Bingin can get more crowded than Uluwatu as the wave is less intimidating. And be warned that locals run the show. Tides play an important role with this wave. While this wave works best at mid tide, you will find experts and pros daring this wave playing with new twists and turns.
Level: Beginner (high tide only), Intermediate, Advanced
Access: Walk through alleyway past Temple Lodge and down the stairs.
Required to pay 5k Rupiah to park. Additional access via Bingin Cliff but ask a local how to get there.
Balangan Beach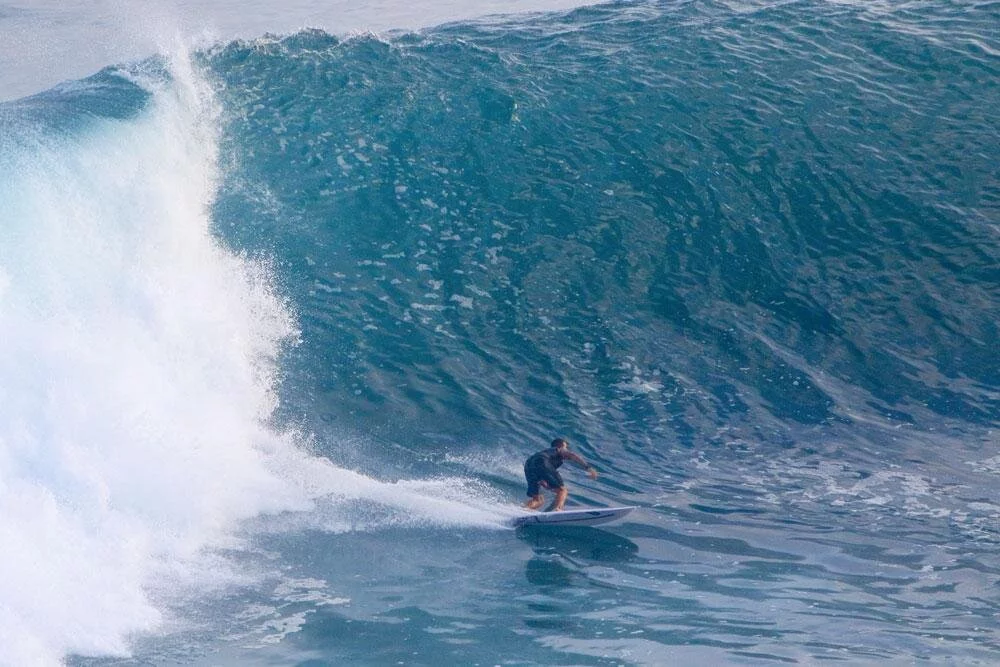 Balangan is last in line of the major left handers in the Bukit Peninsula. Still relatively underdeveloped this beautiful white sand beach still retains the old charm of Bali. The reef is right in front and only requires a short paddle out but remember to bring your booties! The wave itself is very racey and hollow being best at mid to high tide. This swell magnet is the perfect long lefts running close to 200m.
Balangan is fun wave for beginner and intermediate surfers but can quickly become a crowded teaching break for surf schools. Surfing mid tide is a sure bet to miss the crowds. Stash a few Rupiah in your pocket for a post surf Bintang and picturesque view of the sunset at a local beach Warung.
Level: Beginner, Intermediate
Dreamland Beach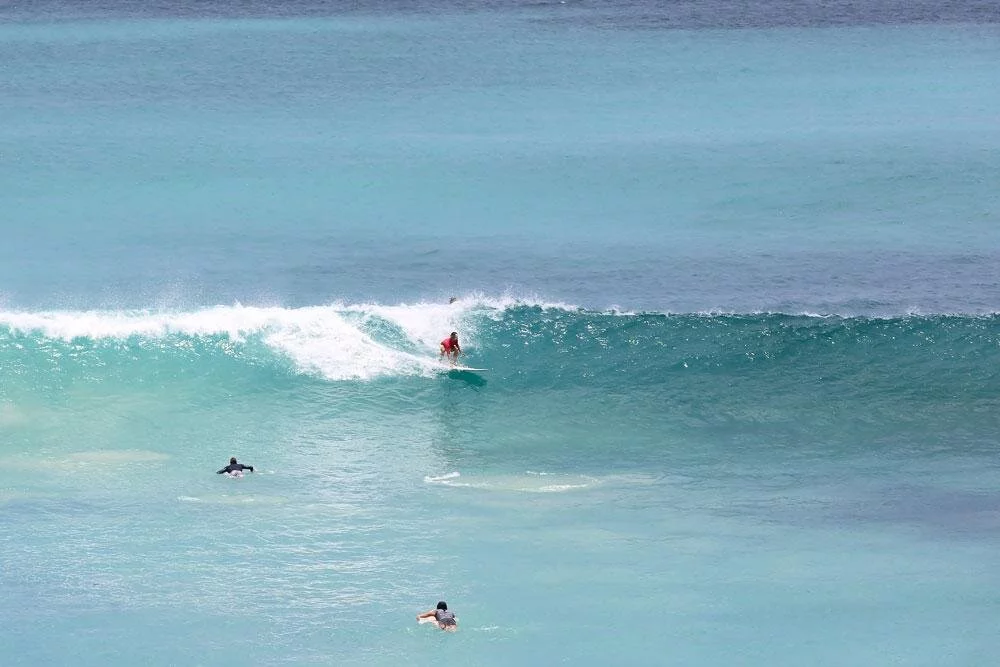 Dreamland beach is a mellow beach break that breaks on all tides in most conditions. Perfect for novice surfers as this is an easier wave, and you don't have to worry about the reef. The water is quite deep and the bottom is sand but the occasional big rock will welp your toe. Best for intermediate surfers as it works well on different tides and different swells with the right and left outside.
Aside from Baby Padang, Dreamland Beach also makes it top the best surf spots in Bukit for beginners on small days with the inside left. On lower tides, there can be a reform on the inside that is fun for shortboards or bodysurfing. And due to the frequent punchy shorebreak, you can find locals showing off their skills. Be cautioned as both the surf and the beach can get crowded with lots of tourists.
Level: Beginner, Intermediate
Access : no exra entrance fee to get into dreamland beach
Nyang Nyang Beach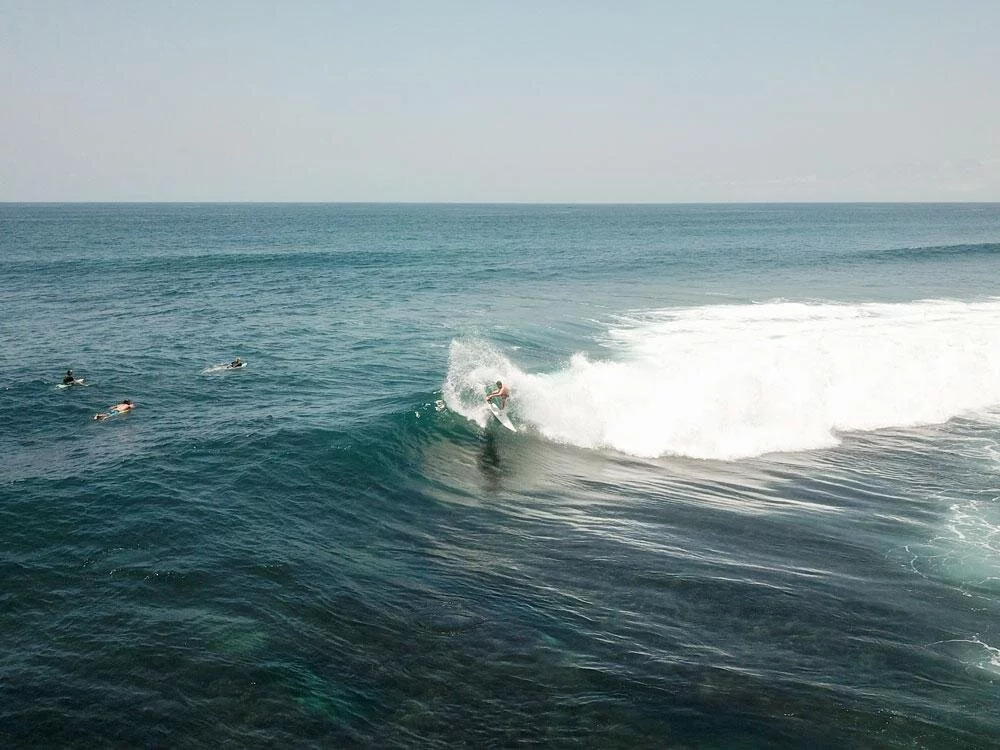 The last on the best surf spots in bukit is Nyang Nyang. One of the only rights in the Bukit, this hollow and fast wave must be surfed on higher tides and early mornings. This break is exposed to trade winds and can come in strong starting early afternoon.
While breaking mostly right into the channel, beware of the strong sweeping current. Nyang Nyang picks up swell in any direction and best in wet season. Because of the sharp corral and dicey conditions, this break is only suitable for experienced surfers. But one of our favorites as you might just find the whole break to yourself!
Level: Advanced, Expert
Access: Beach access is tricky. Recommend GPS or ask a local. Once there, walk down a long hill and save your energy for the post surf climb! No entrance fee is required.