We already talk about the essential surfing equipment which is more about the basic equipment to start surfing. But in this article, we will talk about surfing accessories every surfer must have besides the essential ones.
So what's the difference? the surfing accessories we are talking about in here is more about complementary equipment to help to fix your boards, fins, & making your surf experience better.
Surf Rack
If you are riding a scooter to be your daily ride, then this is a must have! You will see lots of surfers riding a bike will have this rack installed on their bike.
If you are surfing in Bali – or any other Southeast Country – that depends on a motorbike, then finding the surf rack is rather easy. Most of the bike rental will have this option by default. In Bali, the price for bike rental with surf rank is around 500k – 700k.
Having a bike instead of car will help you get to the best surf spots – sometime the most hidden / remote place have the best spots.
Wax Comb
A Wax Comb is a type of surfing accessories / tool to help you remove the wax from your surfboard. It acts as a scraper to clean old wax off your board.
Removing the old wax is great if you are surfing in different water temperature than your usual surf spots. Besides that, a wax comb also has more than one features such as bottle opener, fin keys, or lanyard attachment.
Even tho' it is not necessary because you can always use traction pads. It is a must have for those types of surfers that like to have a deep feeling with their board. A routine of removing and applying your wax is somehow addicting!
Ear Plugs
This is a must-have surfing accessory. You don't want the water to get inside and ended up having trouble with your hearing aka surfers ear.
For a most stylish option, you can go with Surf Ears that are essentially made for surfers to protect the ears. They come with changeable parts in different sizes that allow you to customize them for your ears in order to find a comfortable and secure fit.
Or you can go with Blu Tack. For those who don't know, Blu Tack is a reusable putty-like pressure-sensitive adhesive produced that is used to attach lightweight objects.
Because of its adhesiveness, blu tack often used by surfers as earplugs. It is more cheaper than the Surf Ears. But again because it's not made for such purposes, you have to be careful to use it. You can read more about blu tack from the community.
FCS Ratchet Tool
FCS Ratchet tool is like a swiss army knife but for switching fins. Easily tighten and loosen fin screws with the conveniently sized FCS Ratchet Tool. The Ratchet comes with a flat head bit, 2 Phillips, FCS hex tool and EZ out tool for stubborn screws.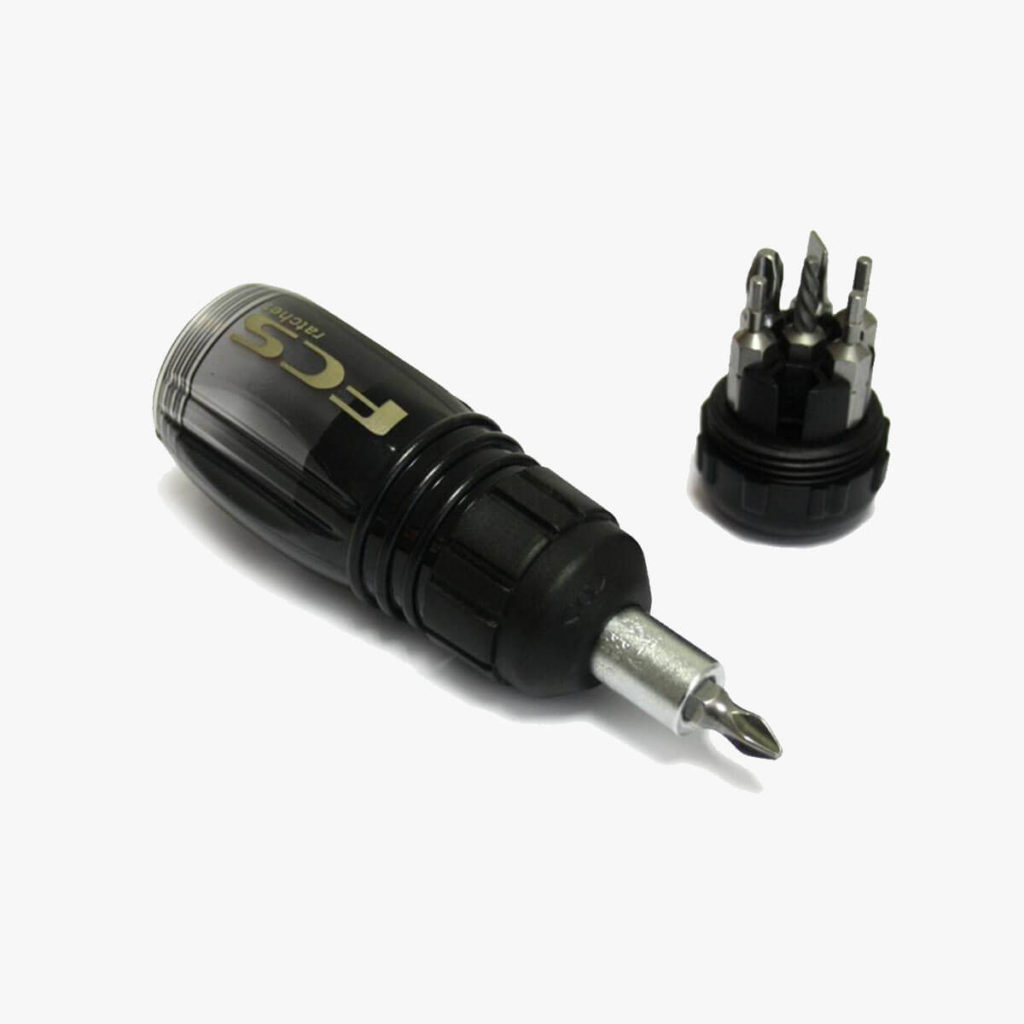 A handy tool for FCS Fin installation. Quick and easy in and out of FCS grubscrews. Change your tri set up to quad in seconds. All spare driver bits stow away in screw top handle. It has Ezi-Out Tool that is designed to allow the unscrewing of the most stubborn screws.
FCS II Infill Kit
FCS II Infill kit or often called Compability Kit was made to fill the gap between the front tab of the original fin, dual tab FCS fin, and the front of the FCS II plug front slot. It is essential if you want to use the older FCS-I fins.
The infill is made of high quality silicone rubber plugs and stainless steel grub screws. They are also extremely durable, light and built to withstand extreme temperature and corrosive conditions.
The Infill kit will help you in saving the money. Instead of changing fins, you can try the infill kit first. You can tell no difference in performance!
Sun Zapper Lip Balm
When you are tired but having fun in a hard session, looking to refill your energy with some fresh drinks. But then you feel something in your lips and somehow you can't taste that drink. Well, probably you don't use Lip Balm.
It is just one of the main reason why you should use Lip Balm for surfing. Sunscreen made especially for lips. It contains Vitamin E & Aloe Vera. Soothing, nourishing, moisturising to the skin. And most important thing, it help you taste the drinks better!
Reef Booties
Reef booties, even tho it's called booties, they are not always looking like boots. They help keep a surfer's feet warm in cold waters and help you maintain the right balance and stability on your board while keeping your toes safe and warm when in water.
Often asked should you use wax and booties? the answer is to balance the composition. If you are using booties, then reduce the wax.
Those are the list of surfing accessories, let us know in the comment below if you have some unknown accessories that can actually be useful in surfing. ^^